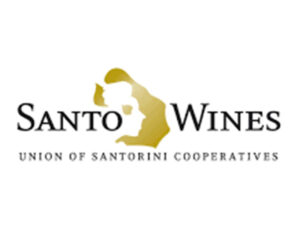 Santo Wines was founded in its initial form in 1911, as "Santorini Vine & Wine Protection Fund". Today, it consists of the largest organization of the island representing all the cultivators and counting 1.200 active members. Santo Wines is committed to safeguarding the local traditional cultivations, producing highest quality Protected Designation of Origin (PDO) Santorini wines and food products as well as promoting sustainable agriculture development. The traditional cultivations of the farmers-members of our cooperative, guarantee the authenticity and the premium quality of Santo products.
As a result of one of the greatest volcanic eruptions of all time, Santorini's strong agricultural tradition is rooted in its soil which has a unique texture and includes lava, volcanic ash and pumice stone. This special composition yields products of distinctive profile and works as a natural shield from diseases. The vineyard in Santorini is self-rooted as it was never affected by phylloxera, and is one of the most ancient in the world with a 3,500-year history.
From sowing and pruning to harvesting, all of the work in the fields is done by hand. In areas of severe slope, the farmers have created terraces, built with lava stones, known as "pezoules" in order to provide easier access to the vineyards, to facilitate the cultivation and to maximize their capacity to absorb rainwater. In the vineyards, the vintners have invented a distinct way of training the vines, called "kouloura". The vines are kept close to the ground and are given a spiral, basket shape that anchors the grapes and protects them from the strong winds.
Because of the climate, terroir, and dedication to the product, some of the best wines in the world come from Santorini.
VIEW PRODUCER SITE