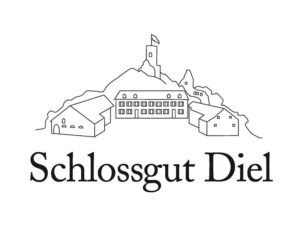 The Schlossgut Diel vineyards, castle and winery are of great historical significance. The winery was purchased by the Diel family in 1802 from Baron Dalberg, who had managed to prevent its confiscation by Napoleon's troops in 1789. Today the winery is owned by prominent gourmand and wine aficionado Armin Diel, well regarded for his work to promote German wine, and whose daughter Caroline is now winemaker and proprietor. Diel's offerings are a study in both terroir and differences in intensity achieved at various levels of ripeness. Diel is one of few who still vinifies each Grosses Gewächs site at each Pradikät.
Located in the lower Nahe on a steep south-facing slope, the 3 vineyards Goldloch, Burgberg and Pittermännchen comprise Diel's esteemed holdings and were documented as early as 1901 as producing wines of exceptional quality. With nearly thirteen acres, Schlossgut Diel is by far the largest landowner within the steep Goldloch vineyard, a vineyard of clay over bedrock, and whose name evokes miners' search for gold here in the 17th century. This site is known for producing deep, powerful wines while still maintaining elegance and finesse. Diel holds approximately half of the steep slopes of the Burgberg vineyard, named for the castle Burg Layen Its clay soil accented by slate and gravel is known for making elegant Riesling that is capable of aging. The smallest of Diel's holdings (1 hectare) are within the Pittermännchen vineyard which benefits from south-facing slopes and mineral soils of slate, quartz and gravel. The complexity of the soil lends itself to racy wines that express great minerality. Organic viticulture is practiced as much as the steep slopes permit. The fruit is either whole-cluster pressed or, if vintage necessitates, destemmed by hand so as not to break skins and warrant oxidation. Fermentation is carried out spontaneously in stuckfass, doppelstuck, and cement tanks, with small barrels used for the red wines.
The combination of great vineyard sites, dedicated vineyard management and meticulous winemaking has led the winery to receive continued acclaim. The wines scrupulously define themselves: the style changes as the vintage dictates but the wines are always clear, sophisticated, and balanced.
VIEW PRODUCER SITE