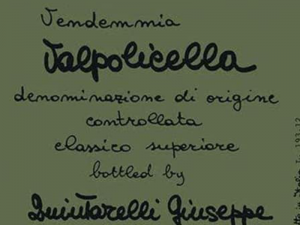 The late, great Maestro del Veneto, Giuseppe Quintarelli, succeeded in establishing his mythical and legendary estate during an amazing sixty-year career. All of the tradition, love, heart, and soul of crafting one of the world's finest wines continue at the Quintarelli home and winery in the hills north of Verona. Giuseppe's daughter Fiorenza, his son-in-law Giampaolo, and his grandsons Francesco and Lorenzo are all keeping a close watch over the family's legacy.
It is impossible to speak about Quintarelli without superlatives. The name itself stands for so much: the family, the wines, a style, a tradition, a way of doing things. After all the time, effort, patience, and care that go into the making of a bottle of Quintarelli, it truly does mean so much more than wine. Giuseppe, fondly known as "Bepi" to those closest to him, was a perfectionist in every way. From the beautiful handwritten labels, to the best possible quality cork, to the exquisite wine in the bottles, the Quintarelli name is a stamp of authenticity and the ultimate indication of an artisanal, handmade, uncompromising wine of the highest quality.
Nothing is ever hurried at Quintarelli. The wines take their time and are given the time they need. In the still, quiet calm of the family cellars above the town of Negrar, along the winding via del Cerè, deep in the Valpolicella zone, the wine from the family's hillside vineyards ages patiently and gracefully in large casks until it is ready. Every release is a masterpiece, a testament to time, tradition, skill, and passion, the creations of a master artisan. You can't really compare these wines to any other in the region, or anywhere else in the world. They really are in a class and a category all their own.
Multiple passages through the vineyards produce a myriad of wines, many produced using the appassimento technique whereby the grapes are dried on rush mats before being pressed and made into wine. From the delicious and seductive Bianco Secco, to the benchmark Valpolicella that created a revolution in the thinking about what it was possible to produce in this region, to the Rosso del Bepi and Amarones produced according to the quality of the harvest, to the otherworldly Recioto and the exceedingly rare Bandito, the sheer artistry and depth of the range is truly exceptional
VIEW PRODUCER SITE