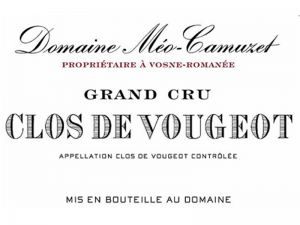 Méo-Camuzet is one of the most celebrated domaines of the Côte d'Or, located in the heart of prestigious Vosne-Romanée. The domaine boasts fourteen hectares of land in some of the most spectacular appellations and crus of Burgundy. The vineyard land in Burgundy is highly parceled out among families, which makes it rare for anyone to have enough vines to be able to bottle one grand cru, let alone the six that the Méos have. The early beginnings of the domaine left it in the hands of métayeurs, or share-croppers. The last twenty years have brought substantial changes that have fostered a new chapter for the Méo family.
Founder Étienne Camuzet was not only a passionate vigneron, but a full-time politician, and spent most of his time in Paris, representing the Côte d'Or. In order to keep his land in use, he offered it to capable share-croppers to farm. By the time his daughter had inherited the estate, she found herself with no successors, so the estate was passed down to her closest relative, Jean Méo. Jean was also deeply involved in national politics—he served as a member of Charles De Gaulle's cabinet. Consequently, he, too, had to direct the domaine from afar. In the early 1980s, as many of the métayeurs were starting to retire, it became clear that the domaine needed a new direction. Jean's son, Jean-Nicolas had also spent most of his life in Paris. By 1985, it was his turn to take the helm. In lieu of continuing to rent out their highly-pedigreed vineyards, he made the bold decision to slowly start reclaiming the land for the domaine's own bottlings. He called upon the resident expert, one of Burgundy's greatest winemakers of all time, Henri Jayer, for guidance. Henri had spent over forty years farming parcels from Méo-Camuzet under his own label, while enjoying celebrity status in the Kermit Lynch Wine Merchant portfolio. For three years, he mentored Jean-Nicolas during the transition and finally decided to retire in 1988. Though Jayer passed away in 2006, his legacy endures to this day.
Jean-Nicolas has since directed the cellar and sales. He has put the vineyards in the capable hands of Christian Faurois, son of one of domaine's métayeurs, who has dedicated himself to these vineyards since 1973.
Domaine Méo-Camuzet bottles six astounding grands crus (Richebourg, Clos de Vougeot, Échezeaux, Corton Clos Rognet, Corton Les Perrières, and Corton La Vigne au Saint), ten premier crus (from the communes of Vosne-Romanée, Nuits-St-Georges, Chambolle-Musigny, and Fixin), several village wines, one Bourgogne Rouge, and only three whites. Jean-Nicolas aims for balance and purity of fruit, which he accomplishes with terrific success. Though delicate and fine, even in their youth, the paradoxical concentration and intensity of these wines make them ideal for long cellar aging. These rare, stunning achievements are a Burgundy lover's dream.
VIEW PRODUCER SITE