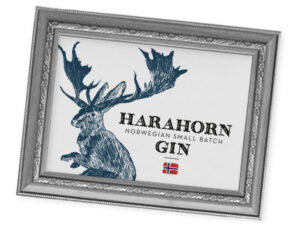 So the story goes…over many centuries, hunters and mountain men swear they have glimpsed it. In North American folklore this creature is known as the Jackalope; in Norway it is known as the Harahorn.
Harahorn is also the name of a Norwegian Mountain which rises into a midnight sky filled with northern lights. This inspired the creation of Harahorn small batch Gin.
In that mountain plateau, ripe juniper berries are gathered for the Norwegian Gin. The Harahorn's tracks are traced through abandoned mountain farms where they harvest the rhubarb, to the deep forests of the Norwegian Lowlands where they pick the blueberries.
Ole Puntervold is a pioneer of Norwegian spirits production. He received the very first production license in Norway following the easing of the distilling regulations. Ole Puntervold has a Master of Science in organic chemistry, specializing in biochemistry. It was his father who founded the business in 1952. Ole Puntervold's watchword for his business was: Nil satis nisi optimum – only the best is good enough!
VIEW PRODUCER SITE